An aspiring Midlands boxer with his eyes on next year's Commonwealth Games has agreed to become an ambassador for the Good Shepherd.
Niall Farrell, a 24-year-old featherweight (57kg), hails from the Kingstanding gym in Birmingham run by dad Paddy, and is just getting back in the ring after several years of injury problems.
But his time away from the sport has increased his desire to try and play in part in supporting the community, including this new ambassadorial role with the Good Shepherd.
He is already a trustee with the Support Futures charity which aims to give young people a second chance in life by providing scholarships to encourage their rehabilitation, education and employability.
"As part of the boxers belonging to Team GB, you take part in different appearances, and I really enjoy getting involved in those," Niall explains.
"I have made regular visits to a school in Sheffield which is where Team GB are based to talk to the students and see if I can help them, and have done boxing sessions to help my Dad at his gym.
"I felt like I can really connect with young people, and that promoted me to complete a Level One course in mentoring.
"I think it is really important to be able to give something back, and I enjoy voluntary work – it has become second nature to me.
"It was great to become a part of Support Futures when it launched last year and although Covid has affected what we have been able to do I am really looking forward to doing more with them as well.
"I already knew about the work of the Good Shepherd and it was a real honour to be asked to become an ambassador.
"When I take something on I really put my heart into it and when I have time I will do whatever I can to help the charity and the people who need it.
"I know how many people have been struggling during the pandemic and it is up to all of us to do our bit and help out where we can."
Niall's link to the Good Shepherd initially came via the charity's Head of Operations, Tom Hayden.
"George Kelly, a good friend of mine, is one of the trainers at the Second City gym where Niall started out with his Dad, and he has often mentioned him in terms of his boxing but also his desire to help the community," says Tom.
"Off the back of that we approached Niall and he came over to the Good Shepherd to find out more about us and see what he could do to help.
"We are delighted he has agreed to become an Ambassador, alongside former Wolves goalkeeper Carl Ikeme who was appointed last year, and look forward to working with him where his boxing commitments allow to the benefit of the charity." 
While Niall's ambassadorial role will be to help promote the Good Shepherd and get involved when he can, boxing is one particular area where his expertise could be particularly worthwhile.
The Good Shepherd organise a programme of meaningful activities for rough sleepers and vulnerable members of the community to help them regain feelings of belonging and self-esteem and, prior to the pandemic, one of those was weekly boxing classes.
"I might be biased but I can see how boxing can help people and I believe it is one of the best sports that there is," says Niall.
"Boxing gives you a feeling of being in another family, as well as a sense of discipline from listening to the coaches and all the training you have to do.
"It has helped me so much and moulded me into the person that I am today and I feel very fortunate to be able to do something that I love to do.
"When you do a tough session you feel really good about yourself, and I think it is really good for your mental health."
What then of Niall's own boxing journey, and how he has got to where he is today, rated as one of the best young British prospects in the sport?
With his Dad a boxer, it was certainly in the family, and he would be at the gym working on the pads from a very early age.
Having said that, up until the age of 11 Niall combined the sport with playing football, before needing to make a choice.
With plenty of hard work, he has progressed through to now being in the Team GB squad off the back of some impressive results, the highlight of which is perhaps a silver medal at the European Championships and reaching a world ranking of ten.
Life hasn't been without its setbacks however, and it is from there that Niall is currently regrouping and just getting back in the ring – he is currently involved in a tournament in Lithuania – after a lengthy absence with injury.
"I picked up a hand injury and tried to keep going with it but I was basically fighting with a hand where I had split all the tendons down to the bone," he says.
"It was a really difficult injury which has taken a lot of time to sort out, including three operations.
"It had been three years or so without a fight but I have got myself back into full training and ready to go again and maybe the injury has been a blessing in disguise.
"Things happen for a reason and I feel like I have come back better, stronger, cleverer and more mature.
"Speak to the GB coaches and they will tell you that I am flying, I feel so much of a better boxer than before and I learning more and more every day."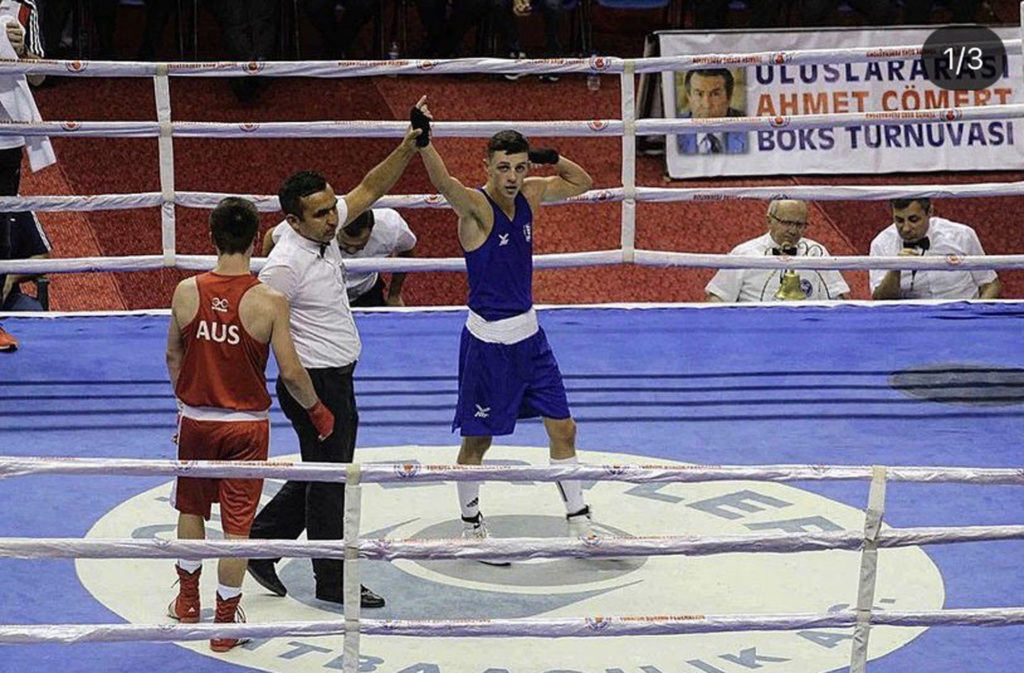 Farrell's record to date is 85 wins and 16 defeats from 101 fights, and while the injury has prevented any chance of aiming to be at the Tokyo Olympics this year, he has targeted the World Championships this summer, and then the Commonwealth Games in his home city of Birmingham in 2022.
"I want to be a professional world champion, I want to a person people look up to, and someone that inspires," he adds.
"But the hand injury also gave me some perspective and made me think about what might happen if I had to stop boxing, as I will one day.
"So I want to take on other experiences and learn more about myself, and getting involved with charities like the Good Shepherd and trying to help people is something I am really looking forward to getting involved in."