People accessing the Good Shepherd for food and support will be able to enjoy a few more of the basics and activities that others take for granted thanks to donations made to a local events company.
Dangerous Sheep Events, run by Kevin and Michelle Taylor, initially ran a crowdfunding campaign for a mobile shower unit which could be driven around the city to be used by rough sleepers during the pandemic.
However, when the 'Everyone In' campaign ensured those who were homeless were given access to hotel accommodation and a host of support services on site, the unit was quickly no longer required, and was later re-engineered into a drinks unit for use at events.
But with people having donated their money towards helping rough sleepers or people at risk of homelessness, the £2,250 raised by Dangerous Sheep Events has now been passed on to the Good Shepherd, to be used as part of a wellbeing fund to improve the lives of those are who vulnerable across the city.
"When the pandemic came, we knew how difficult it was going to be for so many people, so had this idea to try and help those who were rough sleeping without access to any facilities to be able to get themselves a shower," says Kevin.
"Everyone was really generous in supporting the campaign and making donations, but then, ultimately because of the work that was done finding accommodation for people, our trailer wasn't required.
"That left us with the trailer on our hands and not knowing what to do with it, but also appreciating that people had donated to try and help rough sleepers from the local community.
"So, what we decided was to transform the trailer into something we can use in the events business, and then re-invest the funds people had donated towards helping those in need.
"That is where we decided to speak to the Good Shepherd, to see how best the donations could be used to the benefit of their service-users."
The funds raised and now donated are to be channelled directly into a wellbeing fund, which will operate in addition to other funding the Good Shepherd receives for similar purposes.
As Housing First key worker Paul Burns explains, there are many different ways which small gestures and acts of kindness can play such an important part in people's lives.
"We are fortunate at the Good Shepherd to have access to funding and support which allows us to work closely with people and provide help in areas such as providing food, finding accommodation, addressing mental health issues and addiction and many other problems," says Paul.
"But sometimes, even the smallest acts of kindness can make a major difference, and this very generous support from Kevin and Michelle, and everyone who donated, will have a really positive impact.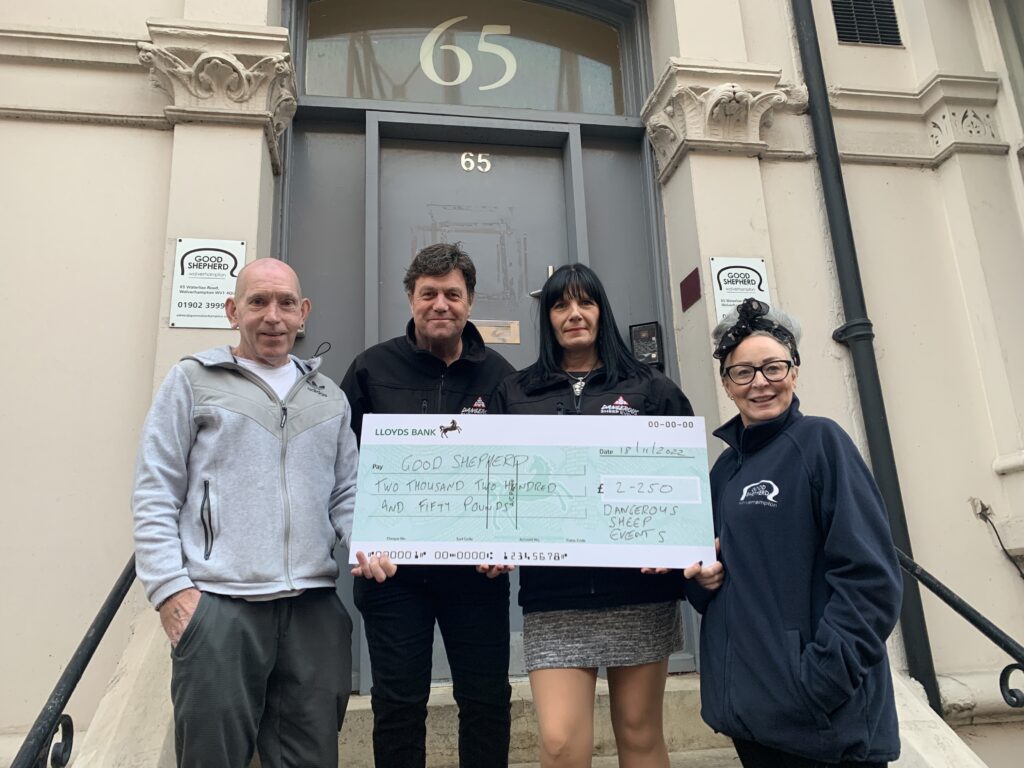 "It might be something like a haircut, going to the gym, having a cup of tea in a local café, providing some new clothing to someone who has nothing, going out on a little trip – a lot of the things we take for granted become massively important for someone who has been on a downward spiral and can't see a way out of their situation.
"From the experience of all of us working and volunteering at the Good Shepherd, we have seen how these little actions can make such a big difference in changing a person's mindset, making them more positive and giving them hope for the future.
"We see people who arrive with us when they are on the floor and feel they have nowhere to turn, end up bouncing out at the end of the day because someone has thought about them and done something positive for them, however small that may seem.
"It really can be a starting point for people who have experienced major trauma to take that first step towards getting back on track, feeling better about themselves and rediscovering some confidence and self-esteem."
"I know a lot of people who have been through difficult times and that is why Michelle and myself and everyone else who donated to the Crowdfunder wants to just provide that bit of help to people when they need it," added Kevin.
"We know these are tough times for so many people, and the only way through it us for all of us to stick together and help each other and hopefully this donation will give the Good Shepherd a little bit more opportunity to do that for those who are struggling."
There was also an added donation to the fund courtesy of guests who attended a Wolverhampton event called The Social, hosted by two local DJs, raising an additional £140 raffling off tickets from Dangerous Sheep Events to a concert by The Cure.
And the beauty of the timing of both donations, coming during the Big Give's Christmas Challenge, means that both were doubled, meaning those involved have effectively raised £4,780 for the work of the charity.
Everyone from the Good Shepherd would like to say a huge thank you for the donation and the impact it will have on the people we support.