This year's Molineux Sleepout fell on one of the coldest nights of the year so far – but that didn't stop approximately 150 hardy folk sleeping under the stars in the Stan Cullis Stand to support Wolves Foundation and the Good Shepherd.
The Foundation's fourth annual Sleepout took place on Friday night, providing people with just one night's experience of being a rough sleeper to raise awareness of the plight of the homelessness and vulnerable, as well as funds for projects run by the two charities.
So far over £40,000 has been raised, which is a record total from the Sleepout for Just Giving alone, and, with donations staying open until the end of the year, and other funding to be added, it is hoped that the target of £50,000 could be reached.
"It was another really inspiring evening, particularly to see so many people from across the community coming together to support those who are in need of help during these challenging times," says Head of Wolves Foundation Will Clowes, who took part in the event.
"The Molineux Sleepout has become a really important part of our calendar, both to raise awareness of the wide range of work which the two charities carry out in Wolverhampton, and also vital funding to deliver those projects.
"We are hugely appreciative to everyone who took part and braved the elements, the local dignitaries, charity ambassadors and all who gave their time to help bring the event to a wider audience, and everyone who has made a donation which will have such a positive effect on the people of the city.
"The funds raised will ensure that we as a Foundation will be able to deliver some extra work for those in need this Winter."
Those who took part in the Sleepout included the Mayor of Wolverhampton Councillor Sandra Samuels OBE, Wolves director John Bowater, Foundation ambassadors Karl Henry, Mark Rhodes and Johnny Phillips, Good Shepherd ambassador and comedian Jack Kirwan, and BBC WM reporter Daz Hale.
Also popping in during the evening were Wolves Foundation ambassador Anna Price, Good Shepherd ambassadors Jaki Graham, Natalie Graham, Niall Farrell and Carl Ikeme, with the former Wolves goalkeeper joining other former Wolves stars John Richards and Steve Daley for a Q&A session hosted by Wolves TV presenter Gemma Frith.
Good Shepherd CEO Tom Hayden and senior volunteer Matt Waterhouse also spoke on stage.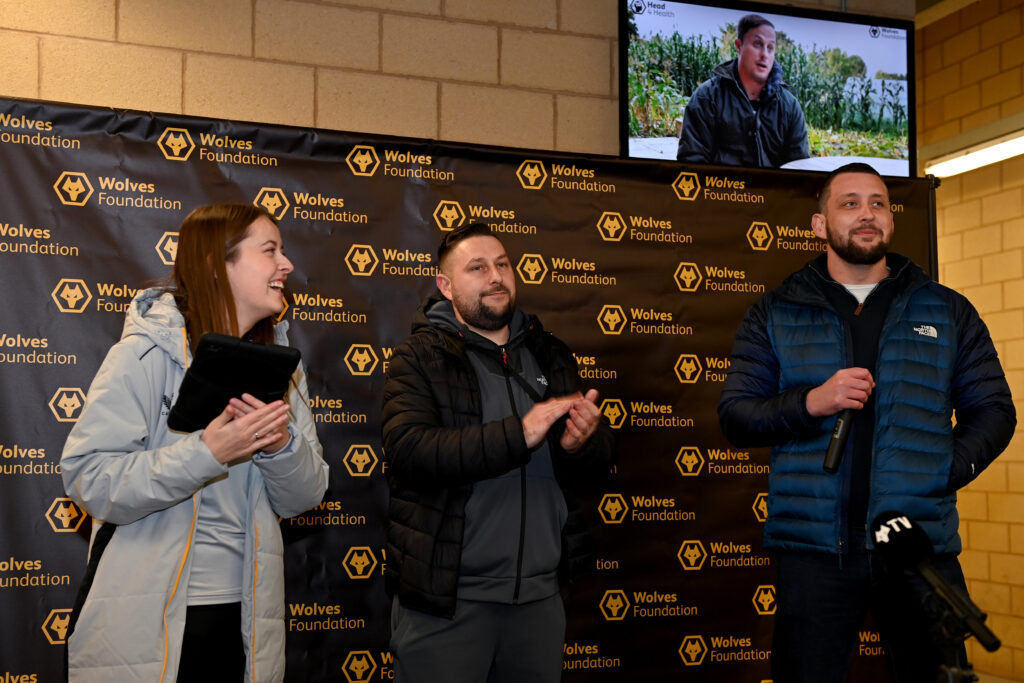 As well as the interviews and Q&A, staff, volunteers and former service users from the Good Shepherd also put on some art classes mirroring those which take place at the charity to help former rough sleepers improve their confidence and self-esteem.
The Good Shepherd also sold several of its first ever calendars, featuring the work of service-users, with proceeds going towards the overall fundraising.
"We all want to say a massive thank you to the Foundation and Wolves for once again involving us in the Molineux Sleepout, as well as all those who took part or made a donation," said Good Shepherd CEO Tom Hayden.
"Wolverhampton, like many cities at the moment, continues to have its challenges, but what is never in doubt is how its people are always so ready to come together to support the most disadvantaged within our communities.
"The sum of money raised is absolutely fantastic and will help the Good Shepherd continue to deliver our programme of food and support services to help former rough sleepers and those who are vulnerable across the city."
A group of Good Shepherd staff and volunteers also took part in the Sleepout – click here to make a donation before December 31st if you wish to support their efforts.  Thank you.
PHOTOS COURTESY OF WOLVES FOUNDATION