"To see the change in Sam since she has had the treatment has been awesome and you can't believe the difference this will make to her over the next few weeks and next few months.
"She has got her smile back and can now make more positive steps going forward which would otherwise have been more difficult."
Samantha is a long-standing service user at the Good Shepherd who has been working with support worker Paul Burns within the Housing First programme to address some of her issues whilst living in her own accommodation.
Those are the words of Paul, who has seen Samantha benefit from accessing treatment via the Royal Wolverhampton NHS Trust's Special Care Dental Service.
In the last two months she has had treatment including extraction of teeth, fillings, scaling and provision of immediate dentures.
The impact that the treatment has had on Samantha's wellbeing extends way beyond the relief of pain which she had been suffering for years.
"The work we do with those attending the Good Shepherd is about far more than just dealing with pain," confirms Jenny Cooke, a dentist with the RWT Special Care Dental Team.
"It can improve people's confidence towards accessing healthcare and putting trust in other people.
"Initially our service started as a drop-in session to help people with pain, but now it has become more about helping to improve their smile at an important stage in their lives"
"Taking someone like Sam on a journey from where we started to where we are now is a part of the job I really enjoy.
"When I first met her, I could tell she didn't really want to be there and she would sit in the chair for a couple of minutes and then be off.
"The way she has responded and her approach and appearance now is so different – she has coped really well and we are all really proud of her."
Caroline Bestwick is a Dental Health Specialist within RWT and has built up links with the Good Shepherd during her nine-years in the role.
It started as a monthly drop-in session at the old premises in Darlington Street, before progressing to a weekly visit right up until the Covid pandemic, when she was re-deployed to work in the Intensive Care Unit at New Cross Hospital.
The drop-in sessions have now returned to the Good Shepherd on Waterloo Road where Caroline attends and meets service users on a Wednesday, with the opportunity for them to then attend a clinic and be treated by Jenny on a Thursday.
"Coming in on a Wednesday means we can build relationships with people and promote the clinic, so if someone is really in pain they can start their treatment the very next day," says Caroline.
"Sometimes people may be more reluctant, but those visits mean those who may need help are on our radar and know we are there to help when they are ready, even it is months later when they decide to walk through the clinic doors.
"People who access the Good Shepherd might sometimes feel they are judged when they go to a dentist and that can set them back and put them off going no matter how much pain they are in.
"We have great working relationships with the staff at the Good Shepherd which really help us."
One of those staff members is Housing First project worker Paul, whose aforementioned words highlight the difference the programme of treatment has made for Samantha.
He says the same opportunities are open to so many more service users at the Good Shepherd who would otherwise not be able to access the treatment.
"Caroline and Jenny have been fantastic in how they work with us and it has made such a difference," he says.
"Previously we would have to go around the room and find people who were in need of dental treatment but now they come to us and ask when Caroline is coming in.
"And it's about so much more than being free of pain – it's that feelgood factor of having a nice set of teeth, being able to smile again and eat more healthily and just be more confident with more self-esteem."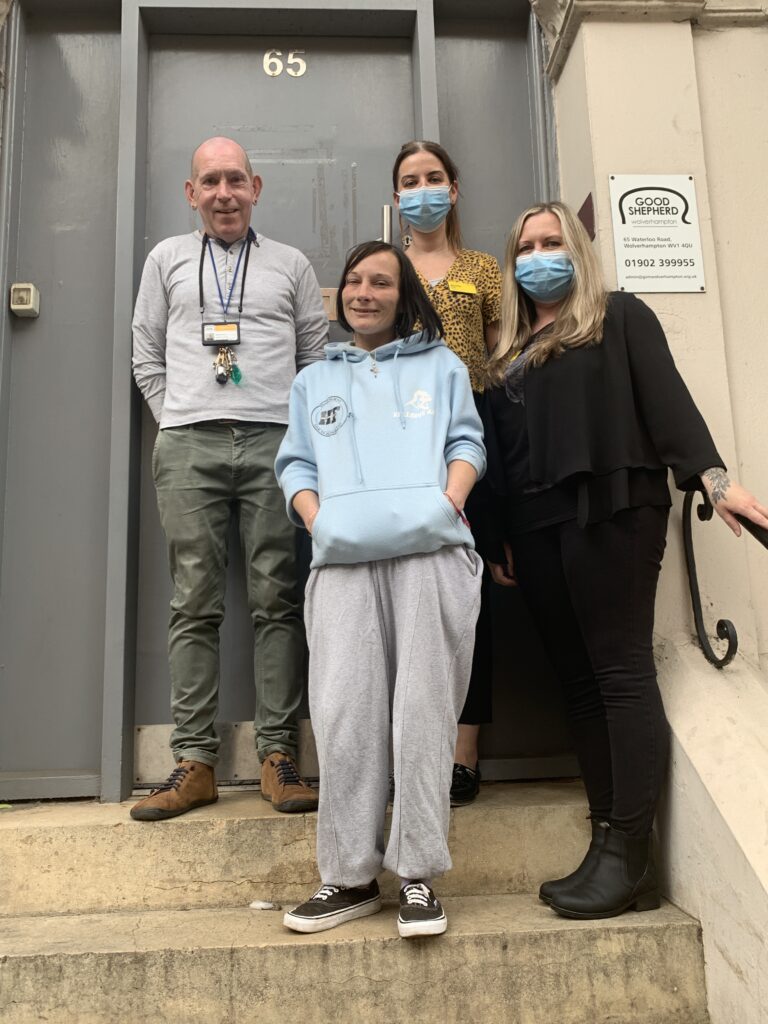 What then of the lady herself and the impact the treatment has had and will continue to have moving forward?
"I still can't believe it to be honest," says Samantha.
"I hadn't been to a dentist in over 20 years and there was a time when I wouldn't even have sat on the chair.
"Every time I have been I have wanted to leave straightaway and I've probably only been able to do it because Jenny has been so helpful and made me feel so comfortable.
"It's a bit weird looking in the mirror, to have gone from what I was before to what I am now, but I'm really pleased with the results."
It is indeed a great result particularly towards the end of National Smile Health, designed to raise awareness of the importance of good oral health and its contribution to positive health and wellbeing.
As Caroline concludes: "National Smile Month offers a platform to promote some really important messages and the quote for this year sums it up best – everyone deserves a healthy smile!"