Popular amateur football team Racing 47 have teamed up with community-focused t-shirt designers True Reverie to support a charity's work with the homeless and vulnerable from Wolverhampton.
Racing 47 was first set up by Roger Clough in 1977, playing in the Wolverhampton Municipal League on Saturdays and friendlies on Sundays, taking its name as most of the members of the first ever squad were born around 1947.
Nowadays the club just meets for five-a-side friendly fixtures on Thursday nights, but has retained a strong community focus, leading to this idea to support the Good Shepherd charity.
It was the brainchild of Alex Gage, a cameraman with Sky Sports who first turned out for Racing 47 over 25 years ago, and his partner Sian Rowles, a former winger with Wolves Women who has been playing for the last decade.
The club decided to commission a limited edition run on a new Adidas football shirt, sponsored by True Reverie, who produce clothing and art to try and bring the community together in telling the story of Wolverhampton.
"When we started thinking about creating a new shirt for Racing 47, we decided to combine it with supporting a local charity, and during these challenging times with so many more people needing support, we settled on the Good Shepherd," says Alex.
"We were already aware of the fantastic work of True Reverie, and when we got in touch with them they were only delighted to help with sponsorship, and the result is not only a really smart and well-designed shirt, but also £450 for the Good Shepherd."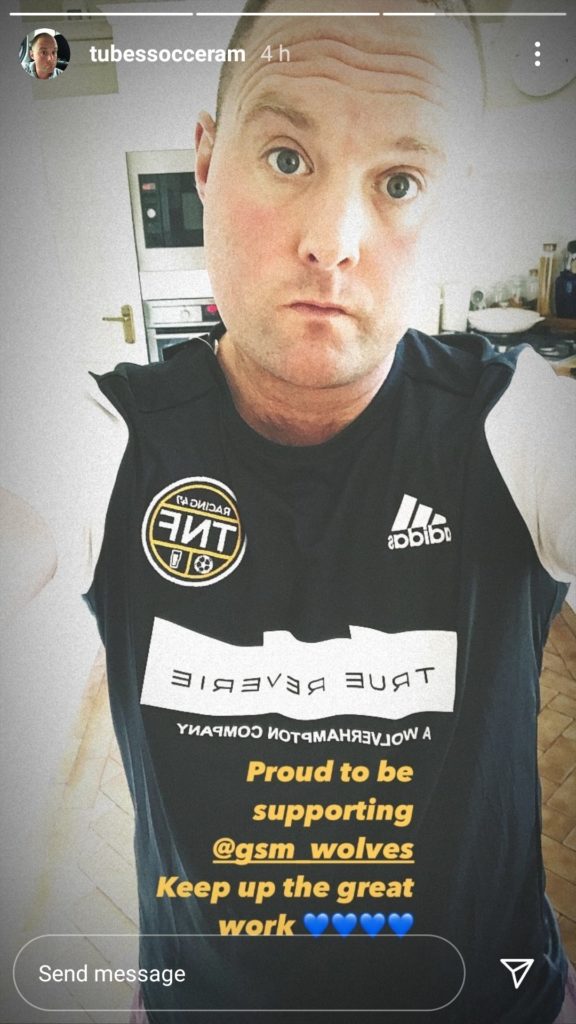 The initiative earned the seal of approval from legendary Sky Sports presenter 'Tubes', who purchased one of the shirts, and also proved popular with players from the early years of Racing's history.
As a company we are very proud of our city, its heritage and the communities within it," say Tim and Lindsey Baker, who founded True Reverie.
"We were delighted to sponsor this project and help raise another £450 for the Good Shepherd, following on from the £450 we raised last year from our Christmas Carnival event.
"The Racing 47 shirt proved very popular, selling out in just a few weeks with sales all over the UK and even as far afield as Australia! Sian, Alex and the Good Shepherd were a pleasure to work with."
The Good Shepherd have remained extremely appreciative of all the support received from Wolverhampton to help its work with the homeless and vulnerable, including another local t-shirt provider Bobby Dazzlers, who have donated £150 from recent sales.
PICTURE: Alex Gage and Sian Rowles in the Racing 47 shirts which raised funds for the Good Shepherd.