This week has been National Volunteers Week, and the Good Shepherd remains reliant and hugely appreciative of the support received from volunteers in so many different areas.
Unfortunately, due to the Covid-19 pandemic, we have been unable to welcome the vast majority of our volunteers for the last three months, but we are looking forward to seeing all again in the future when it is safe to do so.
We were unable to ask all of them for their thoughts about the Good Shepherd and why they decide to help us as they do, but have asked a few people to give us their story as to how and why they support the charity.
Sending a huge thank you and best wishes to ALL our volunteers – we couldn't do this without you.
CHRISTINE GUY
"I became a volunteer on my retirement several years ago as I didn't want to stagnate at home doing nothing. Although I volunteer for other charities my heart is with the Good Shepherd because of all the wonderful things they do to help those who are vulnerable and less fortunate.
The team spirit at the Good Shepherd is great and everyone gets along helping one another.
I was introduced to the Good Shepherd by Paul, my husband, who had been volunteering there for a few months.
I have done a variety of jobs during my time there and thoroughly enjoy being involved and meeting the clients.
My finance/admin background came to the fore when I was asked if I would help Helen (Holloway)with the admin and it was an offer I couldn't refuse.
I so enjoy the work and hopefully giving a little back to society."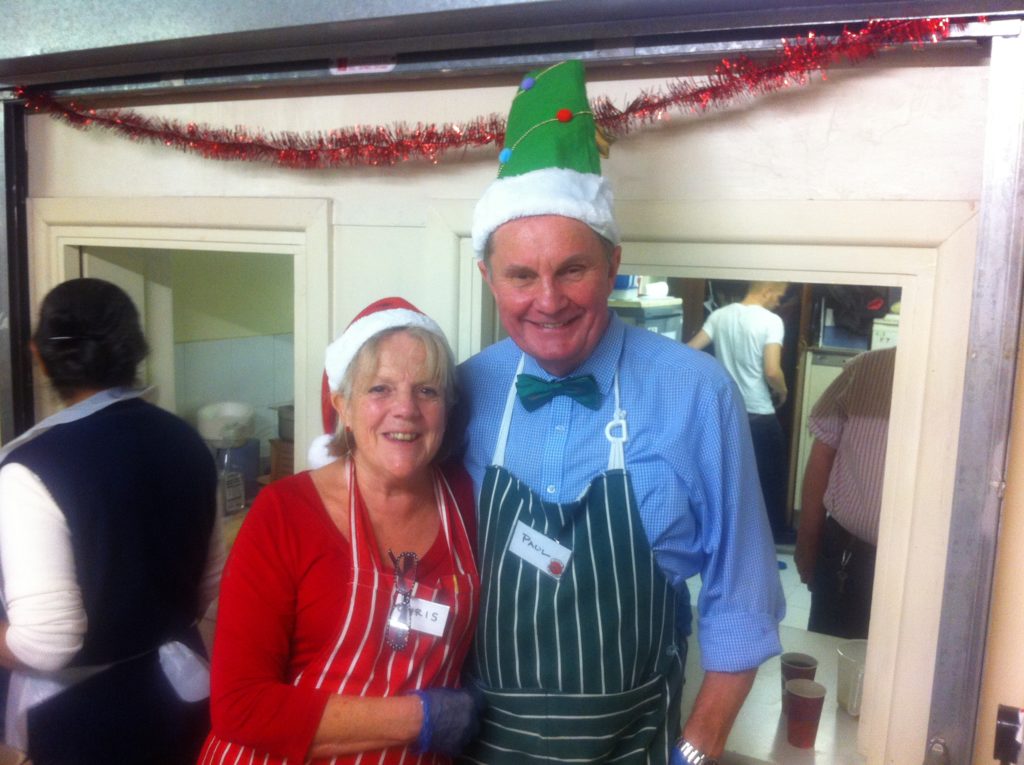 PAUL GUY
"My name is Michael Caine…..sorry, I mean Paul Guy.
I have worked in industry all of my life from leaving school at 16 and when I finally retired I wanted to do something useful apart from making money for other people.
I stumbled upon the Good Shepherd by chance in 2014 and after the initial shock of seeing how many homeless and vulnerable people were in need of assistance, and the work the Good Shepherd were doing, was bitten by the bug and have been with them ever since.
I am currently a driver for the Good Shepherd and my duties involve visiting various organisations and companies to collect donations of food etc for us to either cook with – or distribute to – our clients.
I feel very privileged and proud to work for such a wonderful charity as the Good Shepherd and it gives me a great feeling of satisfaction knowing that my small contribution goes toward helping the less fortunate in our society.
We have a wonderful team spirit at the Good Shepherd and I would heartily recommend anyone considering taking up a volunteering role to get in touch with us."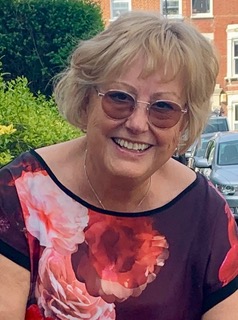 HETTY DODD
"Prior to my joining Good Shepherd some fourteen years ago, I was a support volunteer with Samaritans. My husband was responsible for PR and Fundraising and so I was 'encouraged' to help him at many events – raising funds and awareness are intrinsically linked.
I soon learned that by giving something back to the community you also get something back yourself.
In many ways, the vision of Good Shepherd has many similarities and complements that of Samaritans. In addition to our core objective of addressing poverty, homelessness and inequality in Wolverhampton, it's also about listening to people, and helping them regain their self-respect and dignity.
During my time with Good Shepherd I have seen many, many changes culminating in our move to larger, purpose designed premises far better equipped to help meet the needs of the most vulnerable people in Wolverhampton.
I enjoy meeting and talking with our clients which, in turn, helps me better understand their individual circumstances and needs. More recently, I have had the opportunity and privilege of becoming a trustee of the Good Shepherd – a position of which I am very proud. This has enabled me to gain a far better insight into the larger operation.
What many may not realise is that behind the scenes there is a large team of around 70 volunteers and staff who help keep the service running in Wolverhampton – there are numerous resource needs including health and safety of our colleagues and clients, pastoral care, raising much-needed funds, repair and maintenance of our premises, recruitment and volunteer retention, the list goes on."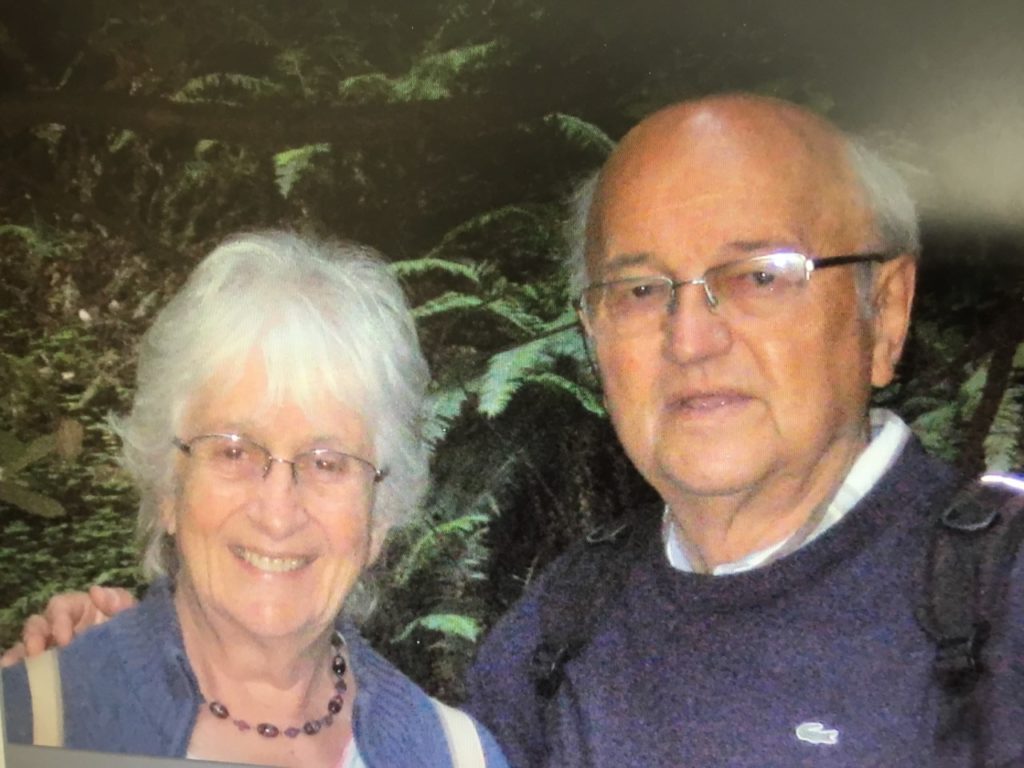 JOHN AND WENDY BATE
"We support the Good Shepherd with a monthly donation because we recognise the value of their work as a vital hands-on service to people in our own local community,"
Social, emotional, practical, challenging and very caring support is offered in appropriate ways to folk whose lives have become dysfunctional due to a variety of reasons which are not always of their own making.
We have offered our service as volunteers over the last ten years or so – in which time the Good Shepherd has developed and expanded enormously – but so has the need.
We only offer a few hours each week, and initially we were making sandwiches but now we help with serving hot lunches and drinks."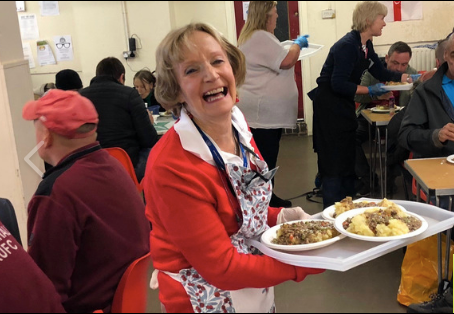 VIV BROWN
"I started volunteering with the Good Shepherd Ministry back in January, 2012.
I retired at the age of 65 in the summer of 2011 and had been working as an Early Years teacher, but my career was 27 years in teaching and 16 years running a hotel in North Wales with my family in the middle of that! I have also taught in Melbourne, Australia for a year on exchange. While teaching I also worked two evenings a week for several years as a waitress, earning extra money to fund my gallivanting! l really enjoyed it and I ran our hotel restaurant too! So it was no surprise that I loved the GoodShepherd from my first day…food service of different kinds, clients to smile at, talk to and laugh with and very dedicated people who are committed to their jobs and who have become special friends. And it is now much more than that.
When I retired I wanted to do something worthwhile, useful and with people who need some help in their lives for whatever reason. Life is not straightforward and there are hurdles all the way! I have had wonderful role models in my life with family members, friends and colleagues who reached out to others to offer support and help. It could so easily be us who come to a crucial time in life, feel lost and desperate and think we have nowhere to turn. The Good Shepherd offers a lifeline to so many. With the outcome of this pandemic our number of clients may well soar.
It was a friend from my schooldays who rang me and suggested I went with her to the Little Brothers as we called it then. She had been a volunteer over many years and asked me to join her. So I did and I am still there! It has changed over time, gone are the days of serving sandwiches out of a draughty window wearing a hat and gloves and a queue a mile long trailing up School Street! We also offer more food in the dining room, not the soup and bread and a pudding that I first served. And when we are running normally there is a Dining Room service three or four days a week, unlimited drinks and often lots of extras too.
When I started, what made such an impression on me was the dedication, humour, generosity of spirit, tireless work ethic and the warmth and love extended to our clients by the Brothers and the minimal numbers of paid staff. I gradually began to identify the layers of volunteers who with great cheerfulness (and the usual grumbling!) also helped keep everything somehow working! The premises in Waterloo Road are far removed from the pre-fire days of Darlington Street and its cluttered, cramped and somewhat chaotic environment. But it didn't matter about the surroundings….we all managed somehow and it worked.
I was asked a little while ago to become a Trustee and feel very privileged to have been considered for this role. It offers an in-depth insight into how the Good Shepherd is managed and runs . I trust I can contribute a little to that part of the whole.
Hopefully we will all be back before too long. On a visit to town yesterday i was greeted with a smile, a nod or a conversation from three of our clients. I miss seeing them and working with them, I miss the hugs, the chats, the sharing of stories, the exchange of news, the grumbles, the laughs. I miss the Good Shepherd!"