Since the Launch of LEAP (Lived Experience into Action Project) back in April 2022, we have been working very hard to reach the most vulnerable people of Wolverhampton to provide quick interventions to prevent homelessness. During the last few months, we have helped numerous people not only secure tenancies but also to maintain those tenancies and progress in other areas of life including benefit entitlements, education, and employment as well as regular wellbeing related interventions.
LEAP has been very proactive with regards to engaging partners and key stakeholders and we are really appreciative to have been welcomed with open arms. We look forward to the ongoing development of those partnerships which will then lead onto supporting more service users and also creating more opportunities for our LEAP volunteers across Wolverhampton.
LEAP volunteers have already been supporting with outreach events within Wolverhampton by utilising their lived experience to engage rough sleepers into the relevant support services available to them.
To date, LEAP has recruited 10 individuals all with a lived experience of either homelessness, mental health issues, the criminal justice system, addiction, or other related traumas. Our volunteers are already progressing really well within their lives in areas such as maintaining their recovery, employment, education and attending training provided by LEAP.
LEAP volunteers have also taken part in partnership events that include the Black Country Mental Health Stakeholder Forum, Drug and Alcohol Partnership Engagement Event and will be supporting the Good Shepherd at the Molineux Sleepout on Friday 18th November.
We now have two volunteers ready to take on the Adult Health and Social Care level 3 diploma which is a key part of the LEAP volunteer programme to help lead to potential careers within the health and social care sector.
One of our volunteers has been given the great opportunity to do an apprenticeship within Wolverhampton City Council, alongside what he is doing with us at LEAP.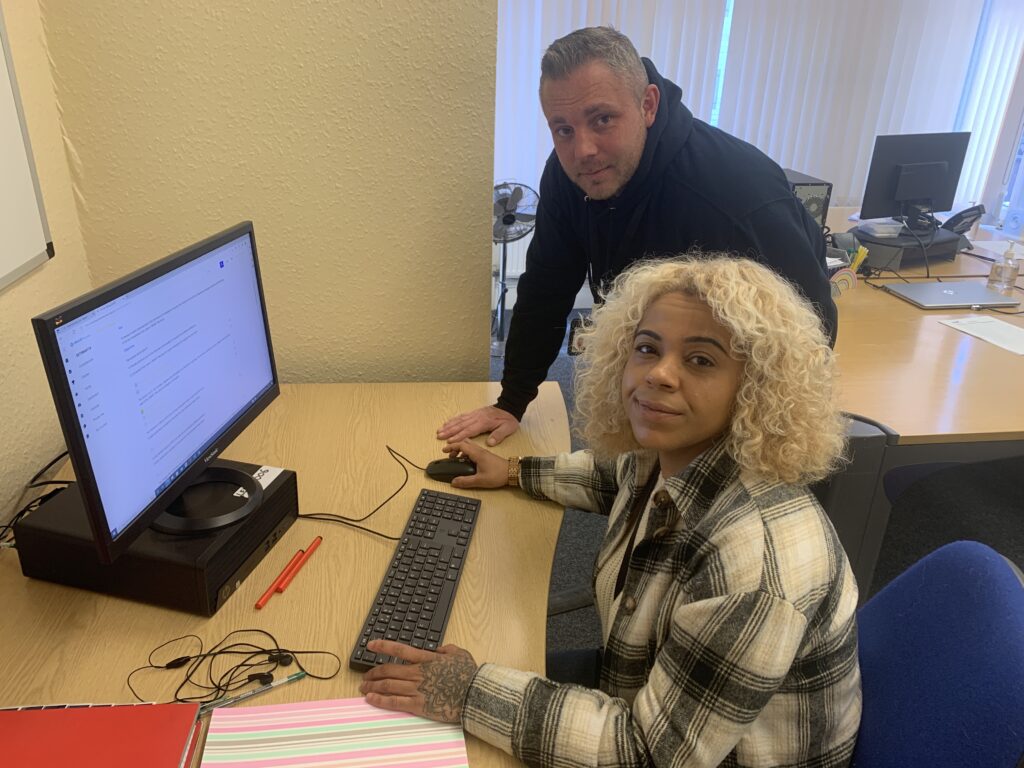 We have already had one great success with one of our volunteers Claire Johnson, pictured. Claire has really excelled in the LEAP volunteer programme and has now secured employment with the NHS. The Good Shepherd and the NHS Liaison and Diversion team in Wolverhampton have now teamed up to provide Peer Support Workers with a lived experience to engage those patients that find themselves on the downward spiral in the criminal justice system. Claire has successfully secured a Peer Support Worker Role and will be supporting Good Shepherd and the NHS L&D team to make positive changes in NHS patients' lives. Congratulations Claire!
Finally, with the support of partners in Wolverhampton we have a lot of exciting things in development, and we are working very hard to ensure that we can meet the needs of Wolverhampton in very ambitious ways. More will be revealed in our next LEAP update.
Chris Cole, LEAP Project manager
LEAP is now recruiting again and will start new volunteers during December, 2022. If you would like to be a part of the LEAP team and help people to transforms their lives whilst gaining relevant training and experience to gain a career in health and social care, then please do contact us via [email protected]
CLICK HERE FOR A REMINDER OF THE AIMS OF THE LEAP PROJECT WITH THE FEATURE FROM THE LAUNCH