Not long before the start of the pandemic, Lee found himself homeless after the break-up of a relationship, and living in a hostel thanks to the support of the P3 charity in Wolverhampton.
Now, less than 18 months on, having spent time in a private rental shared house after a referral from P3 to the Good Shepherd, he is a few weeks into living in his own flat in Wednesfield, is busy furnishing and decorating and can now look forward to a brighter future.
And, perhaps most importantly, he now has a base where he can welcome his two young children and enjoy the sort of family time which had been lost when his world fell apart at the start of last year.
"It's been a long process but it's great to be in my own place now and to be able to have the kids around," Lee explains.
"It was in February of last year when P3 first helped me out and I went into a hostel.
"I was suffering a bit with my mental health with a relationship break-up as well.
"You sometimes hear bad things about hostels don't you? And I had never experienced being homeless before, but it was fine and, once I managed to get a job, P3 then referred me onto the Good Shepherd.
"I spoke to Tina (Senior Support Worker Tina Lane) who was really easy to approach which meant I wasn't scared or embarrassed to say anything.
"She was really helpful and helped me move into shared accommodation with one of the private landlords who works with the Good Shepherd.
"The house was great and I really got on with everyone but all along it was about trying to get into my own place, both for the kids' sake and to have my own space.
"I've been in a few weeks now and have managed to get some carpet down and do it up and my family have helped out with some second hand furniture and I have picked up bits and pieces from other people.
"Everything helps, and it's nice to have some pride in the place and a good foundation now to build on."
Alongside helping Lee both in his shared accommodation and then to find a place of his own the Good Shepherd have provided additional support via training opportunities.
Working with training providers Gecko Programmes, the Good Shepherd supported Lee through some customer service training and a SIA (Security Industry Qualification) to help his long-term ambition of working in security, ideally in retail.
"I have always wanted to keep myself busy and always wanted to work and to learn," Lee explains.
"The Good Shepherd have really helped with this training as well as the accommodation.
"I'm starting in a job shortly which will also give me time at weekends to see the kids and everything is looking a whole lot better for me.
"I had a few problems as we all do in general life and was on anti-depressants when I first went into the hostel but I am not on them now and feel good.
"With a job, a nice place, being able to provide for my kids, I feel really positive about everything moving forward."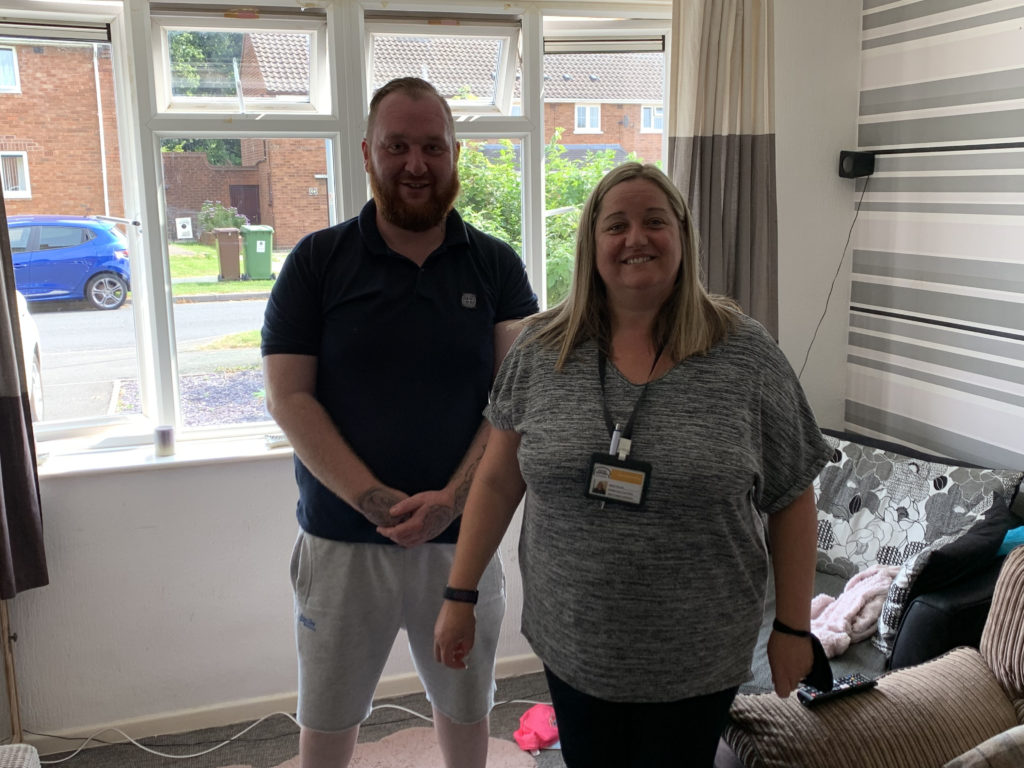 Tina adds: "From where Lee was when we first spoke to him after he had gone into the hostel, it's great to see him in his own flat, where he is able to have his children to come and stay.
"He has only been there a few weeks but has already done it up really well and is clearly going to take some pride in having his own place.
"It's another great example of different charities and agencies working together, where we were able to take Lee from a referral from P3, move him into a property we look after for a private landlord, and then into his own place at the end."
*The Good Shepherd work with a number of private sector landlords via a Supported Lettings Scheme where staff can manage tenancies free of charge in return only for affordable rents for the tenants. If you have a property and feel we can be of benefit please email [email protected]